Want to learn more about Copic Markers?
Copic markers are a very versatile art marker. These color beauties are a staple medium in some of my sketch, hand lettering and illustration designs. Known for their vibrant colors and smooth blending effects, you'll be very pleased with this art medium and find yourself reaching for them often.
Copics are one of my favorite mediums and I have invested in certifications through their education programs to share product knowledge and teach.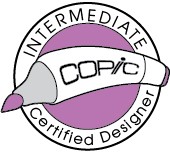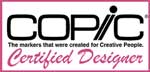 Join me for classes that will get you jump started on your color projects. Classes include full-color handouts and a technique sheet to build your own Copic Reference guide. I have built a full Copic program that you can take at your leisure with an approach to learning Copics that is tailored in class to your needs.
Here's the line-up of the classes I offer at PhotoScraps.  Click on the classes below for class description and details.

Copic 101- Getting Started with Copic Markers
Copic 102- Colorless Blender and Texture Techniques
Copic 103- Coloring Hair, Skin, Backgrounds and Color Mediums
Copic 104- Properties of Light and Shadow
Copic Spotlight: Creating Texture
Copic Spotlight: Understanding the Grays
Copic Spotlight: Coloring Without Lines
Copic Spotlight: Coloring and Creating Reflections
Copic Spotlight: Coloring Hair, Shadowing Skin, Eyes and Lips
February 2017 Classes
Copic Spotlight: Creating Texture.
Copic Art Gallery
Save
Save