This week in my sketchbook…
Instagram is my favorite place to share. The artist community within Instagram is so inspiring. It's my happy place! Here's a round up of this week's sketchbook inspiration.
It's been a super inspirational week as I wrapped up this new release. BELOW! AND, I'm working to wrap up another new release for next week, too. Stay tuned. I'm super excited.
I also shared the inspiration for this print. I originally created this mermie on the back of a chinet paper plate. How fun is that! Check out the post:
"I thought it would be fun to share the "original" inspiration for this #mermaidart print. Here's the plate I painted at the kitchen table that inspired conversation, togetherness and so many memories with my girly twirly. I went on to bring her to life off the plate with my niece Emily in mind. I love sharing stories on how my work "evolves" and I love that SHE got her start…at a kitchen table…just me and my girly twirly talking and painting and creating together. "⠀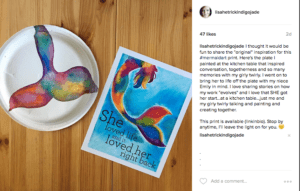 Instagram launched a new feature this week where you can upload multiple photos in one post. SWOON! As an artist who likes to share process, this is a super fun feature. Here was my first dabble post to show a quick process in the sketchbook. Holy shizzle it was like 5 am in the morning, so the lighting is bad, too. But, whatevs.
I also shared a little walk-a-bout in the studio. Holy shizzle it's a mess, so I only showed the pretty parts. Who can relate?

My happy color cart has grown into 3 now! I can't even tell you how much I love these supply wranglers. I need to do another blog post share on these. Here's the original blog post about the first cart I bought. I get a lot of pingbacks and traffic from Pinterest on this happy cart. It's like the happiest thing ever.  The ones pictured below are the Raskog from IKEA. ? They don't make the turquoise one anymore and it was a sad day when I found that out, but the CREME colored one is just as lovely.

I started to share the new work I'm finishing up. I have a little thing for butterflies. Well documented all over this site and blog, so this piece is taking up some of my heartspace with JOY. Coming this week. Stay tuned!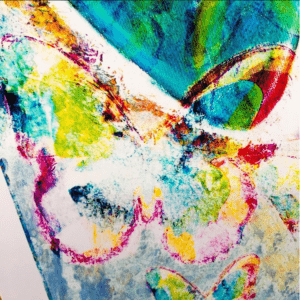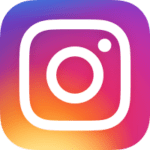 Follow me on Instagram for daily artspiration!
Interested in bringing more positivity into your life? Visit my art prints shop.
Save
Save
Save
Art in progress
,
Artspiration
,
Handlettering
,
iPad Pro Art
,
iPad Pro Lettering
,
Mixed Media
,
moleskine sketchbook
,
Sketchbook
,
Sketchbook Inspiration
,
Watercolor Art