Where do you find your inspiration?
Holy Smokes! I'm super excited to share this post about Gina Lee Kim!
As an artist…. I LOVE, like puffy heart love this question. I am super inspired by so many artists who master their craft across many different mediums. I can easily be distracted popping from one website/blog/hello Pinterest… to another taking in all the unbelievable artsy goodness. What I love most about the artist community within all the circles I travel IRL, social and the interwebs, is how giving, kind, patient and honest the community is toward each other. The good, the bad, the ugly, the honesty is refreshing and there is no room for negativity.
I'm all about positivity… It's kind of my thing.
So, it's a pretty established fact that I'm obsessed with art supplies. All kinds. All mediums. BUT, as you all know… I have a groovy kind of love for WATERCOLOR. And… today… I want to share a bit about an artist whom I have followed for some time and have been super inspired by her watercolor creations. I'm a huge fan of whimsy and her work is so bright, colorful and just so stinkin' happy to gaze upon. Most of the work she creates is within the pages of a spiral bound watercolor/mixed media sketchbook and she's not at all intimidated by the holes punched in the paper. She just works them into the piece. Personally, I'm annoyed by the spiral (lefty syndrome), but I can tell by her teaching mannerisms that she goes with it, and it's part of her graceful style. I really dig it.
She's an artista who has been published in several magazines, has developed a lot of tutorial lessons and products, taught classes and the list goes on.  A lot is happening for Gina Lee Kim. She's working on a book due out later this year and I'm super excited to see it. She recently released a series of watercolor tutorial videos at the Northlight Shop.
You can find all her artsy goodness for sale here at the Northlight Shop. So much goodness there.
AND… you must check out her INSTAGRAM feed as well. It's like getting an explosion of color inspiration in your feed daily. It's so good.
Gina so generously sent me the Fun with Watercolor Resist Effects DVD for a look see. Holy smokes she's super nice.  This DVD tutorial is SOLID and Gina has a way of sharing her watercolor art process in a manner that is so calm and reassuring for the beginner to the seasoned artist. I'm a bit of a color junkie and combinations of colors and palettes are really intriguing to me. I really enjoyed watching how she mixed her colors and let them flow in the work she shares in this video. She's quite mastered the wet on wet technique and has a way of layering color that gives her work a dreamy effect. It's controlled, yet feels so playful.
Resist effects are SUPER FUN! Although I rarely do them in my work (not sure why). I found myself super inspired because of the texture effects that just magically appear.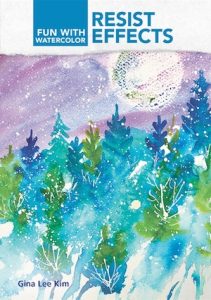 If you've been on the fence about trying this new DVD series, I'd say give it a go. No matter how long you have been an artist, or even if you are just starting out, I always think it's a good idea to learn and be inspired by other people who are sharing their work with the world.
You can find Gina's entire line of tutorial products at the Northlight Shop. They also offer the content in downloadable format (which I love) because I'm super impatient. Tee hee!
No need to hit up the google machine to find her. Here I've made it easy for you:
Gina's Etsy Shop (Hello Prints!)