Gina K Designs + ThermOWeb: Autumn Stamp-n-Foil Release
Hi Friends! I'm so grateful you've stopped by today. Welcome to the Gina K Designs + ThermOWeb Autumn Stamp-n-Foil Release. This is a super fun autumn release with so many versatile options for florals, autumn leaves, fantastic backgrounds and more. Shhhh! my super favorite is the sunflowers set. It's SO VERSATILE and works so well with the leaves and fall elements. I just love sunflowers and crisp fall leaves. LOVE!
You have arrived here from Karen's Blog and will be heading to Rema's Blog next.
New Autumn Stamp-n-Foil Release
There are 8 new products in this release that are perfect for your fall card making and paper crafting projects. The coordinated die sets make it even easier. You can find and purchase all the NEW products HERE.
New Autumn Stamp-n-Foil Project Inspiration

Today, I'm sharing a little something different. I've created a 6×6 piece of easel art using all of the elements from this entire release. I even snuck a little stamp from my set Just a Little. Let me know if you see it in the comments. Kinda like a Where's Waldo, right. Tee hee!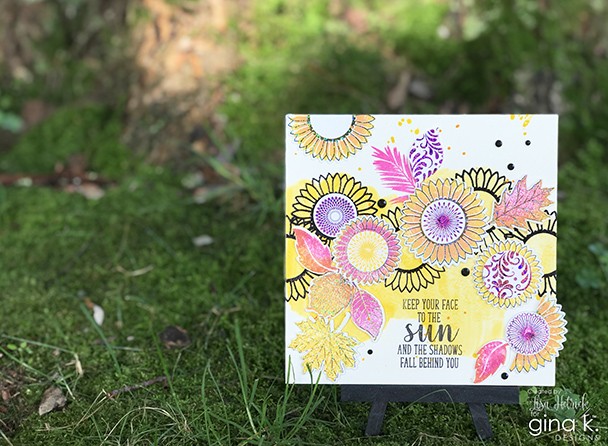 Holy smokes look at that shine. I used the Twinkling Pink  and Gold Sequins foils throughout this entire project and I puffy heart love the combination of colors together. I mix mashed Gina K Dye Inks in: Sweet Mango, Dandelion and Passionate Pink to give this project a colorful fall look.
I used the Sunflower stamp and heat embossed it to the easel art board using Gina K Detail Black Embossing powder to give the whole project a nice ground so that all the foils would pop!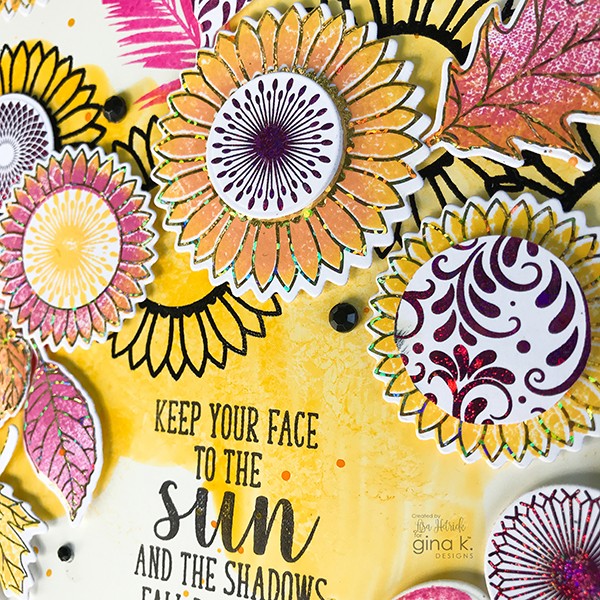 I love the center stamps and coordinating stamp-n-foil detail sheets really give you a lot of options to work with for embellishments. They are interchangeable, bold and super graphic. The flower centers add just the perfect detail to the stamp-n-foiled sunflowers.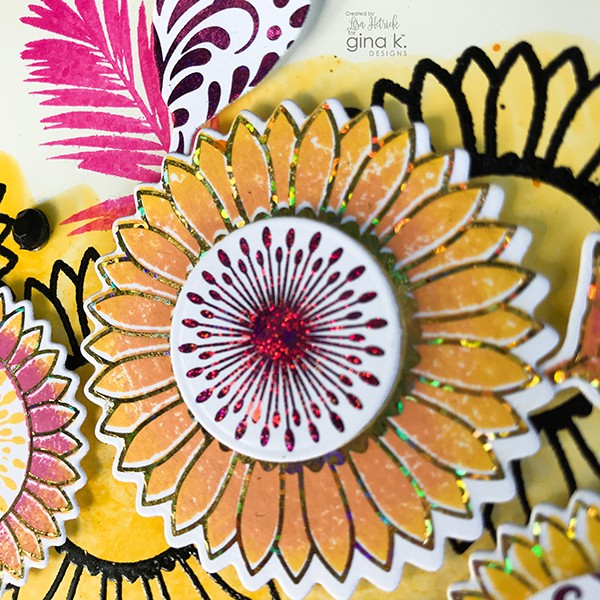 Look at the shine and all the detail. I just had to capture this wonky pic because the light was just hitting the foils so beautifully. The coordinating dies make creating elements and embellishments super easy. I mashed up both stamp sets, dies and detail sheets to created all the elements for this piece of easel art. I even used some of the flourish detail sheets as a center embellishment for one of the sunflowers.
If you made it all the way to the end, WAHOO! Thank you. A couple of things I want to share with you:
ONE:
Don't forget to comment on each team member's blog for a chance to win a $50 gift certificate from Gina K Designs.
TWO:
I'm giving away the art piece of foily art goodness shown in this blog post to a random commenter on this post. I'd love to know what you think about Gina's new Autumn release AND this project, share in the comments! I'll pick a random winner over the weekend.
What's Next?

Head on over to Rema's Blog next for some shiny goodness.
If you want to start over from the beginning, you can start at Gina's Blog.
---
Did you Catch this Week's Video Tutorial?

This week, I shared a super fun watercolor and silver embossing technique using my Hello Beautiful stamp set. Super fun card and you can make it in less than 10 minutes.
May you find pause from the hustle, pure joy and inspiration here. Welcome!
---
Thanks for stopping by! Looking for more inspiration. Check out my Craft Your Joy posts and Free Downloads.
---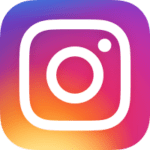 Follow me on Instagram and Facebook for daily artspiration!
If you are interested in more art from me. You can shop my art prints and gift products HERE
You can Subscribe to my email list and receive this FREE Art Print Download. Click the image to subscribe.
Foil Mates
,
Gina K Designs
,
Maker Made
,
PaperCrafting
,
Product Design
,
Stamp Art
,
Stamp-n-foil
,
Stamping
,
Thermoweb
,
Watercolor Art