Biz Women Rock Interview with Katie Krimitsos
Super excited to share my recent interview with Katie Krimitsos at Biz Women Rock. This interview is chock-full of art, healing, growing a business and making shifts in your life. I dive in to "how's" and "whys" of my business AND  how "Art that makes you feel good" came to life.
Katie is such as a great interviewer, we could've talked for hours. I'm so grateful to have had the opportunity to share my story of healing and growth. I am blessed.
LIVING IN FULL BLOOM

As a woman business owner, being interviewed for the podcast was a real "LIVING IN FULL BLOOM" moment for me. I wanted to share my story in hopes of helping others see that not everything in business or life is bright and shiny. Living in full bloom means stepping into and showing up everyday to do what you say you're going to do. Spreading light and positivity is part of the journey.
If you have been following me and my work, you know that light and positivity are at the center of all that I create. The concept of Living in Full Bloom has been shared by me in so many ways through my art and posts here on the site.
Thinking of you, sending you light and ❤️.
---
Adorn your space with a LIVE IN FULL BLOOM print as a daily reminder.

Visit the art prints shop and purchase this print.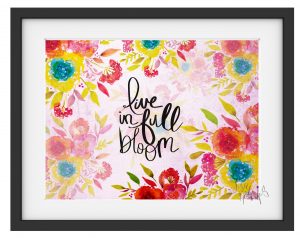 Available in 5×7 + 8×10 print only and/or matted, ready to frame.
These are a few of my favorite things: You can find the entire Live in Full Bloom Collection and more below.

Visit my gifts, stationery, notebooks, home decor and more shop


---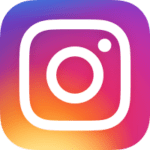 Follow me on Instagram for daily artspiration!
Stop by the FREE DOWNLOAD area of this website for freebies. I'll leave the light on for you!
Save
Save
Save
Save
Artspiration
,
Healing Art
,
Healing Journeys
,
Painting
,
Press