A Little Behind the Scenes
By Grace through Faith
Hi Friends! Happy Sunday! I thought I'd share a little inspiration with you today!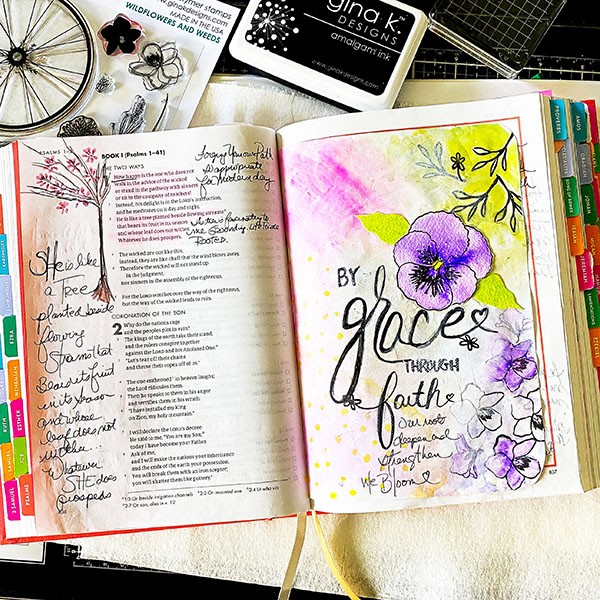 ⁠
Recently, my new stamp set with Gina K Designs released called Wildflowers and Weeds. ❤️  In this video introduction, I shared my inspiration story for the design and illustration of the set. Take a peek at the video. It's a quick story about how violas bring me great JOY in the spring. And, how they are a reminder of my Dad, who passed a little over two years ago.
I've been doing a little art journaling and playing with supplies lately. Crafting my JOY and trying new things. This is a little art expression in my She Reads Truth Bible. I added this page inside. I've recently learned this technique is called a tip-in and I think it's super fun.
Feeling JOY in the Making. Sending you GRACE to carry you today. 
I hope you get some time today to get out some supplies and play. I'm finding great JOY in just starting whether it's a card, journal page, watercolor painting, a sketch. Anything to get quiet and Craft My Joy
By Grace through Faith. You can do this!
So Just for today, pause, reflect and…
Craft Your Joy!
May you find pause from the hustle, pure joy, and inspiration here.
A JOYful heart is good medicine. -Proverbs 17:22
---
Want to Splash Some Paint Around with Me?
Classes for Artists, Crafters, Enthusiasts, YOU!
Head on over to the Classroom HERE. Watch the introduction videos and see for yourself. There are also introduction videos for each course along with detailed descriptions so you can get an in-depth idea of what you can expect in each class.

Use code: CRAFTYOURJOY for $5 off any one of my courses.
---
On Skillshare? Take Classes with Me on Skillshare
Use this link to try Skillshare Premium FREE for 2 months! Skillshare has over 27,000 more courses, taught by creators from around the world. No commitments. Cancel anytime.
---
---
Thanks for stopping by! Looking for more inspiration. Check out my Craft Your Joy posts and Free Downloads.
---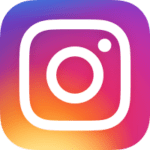 Follow me on Instagram and Facebook for daily artspiration!
If you are interested in more art from me. You can shop my art prints and gift products HERE
You can Subscribe to my email list and receive this FREE Art Print Download. Click the image to subscribe.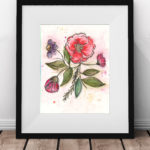 Affiliate links are used above for products I absolutely LOVE from the Gina K Designs line. Purchasing through the link means I will receive a small commission at NO additional cost to you. I never share products I have not personally tried, used, and LOVE. I am an illustrator and part of the design team for Gina K Designs and will share Gina K products in my videos as well. 
Tags:
Art Journaling
,
Bible Journaling
,
Intentions
,
Stamping
,
Watercolor Art
,
watercolor painting