Gina K Designs: October 2019 New Release Blog Hop | Day 2
Hi Friends! I'm so grateful you've stopped by. It's day 2 of the October Release and I'm SUPER EXCITED you are here. Today, I'm sharing my new stamp set YOU BEING you along with Hannah's new set YOU WARM MY HEART. Not gonna lie, I'm nerding out a bit today I have so many fun things to share.
You can click on any of the links or photos to be magically transported to the Gina K Designs website to shop the new arrivals.
You have arrived here from Gina's Blog and will be heading to Hannah's Blog next. Now, on to the inspiration!
---
Introducing my NEW stamp set release

YOU BEING YOU
I'm so excited for this DAY! And, I can't wait to see what you create with my new set. I have a little thing for florals and I really wanted to find a way to create a set with florals that looked like you painted them with watercolor brushstrokes. AND, I bet you didn't know I used to be into embroidery, sewing, and needlepoint. I mashed the two up to create this fun new set.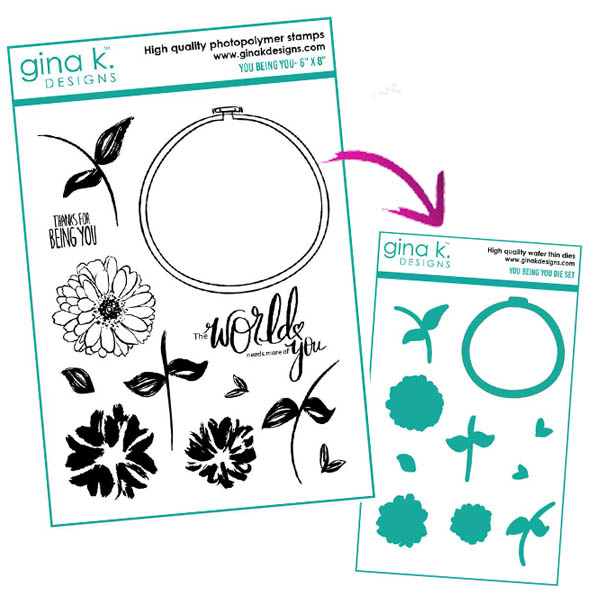 Did you see the video introduction? 
Let's Get a Little Hoopy!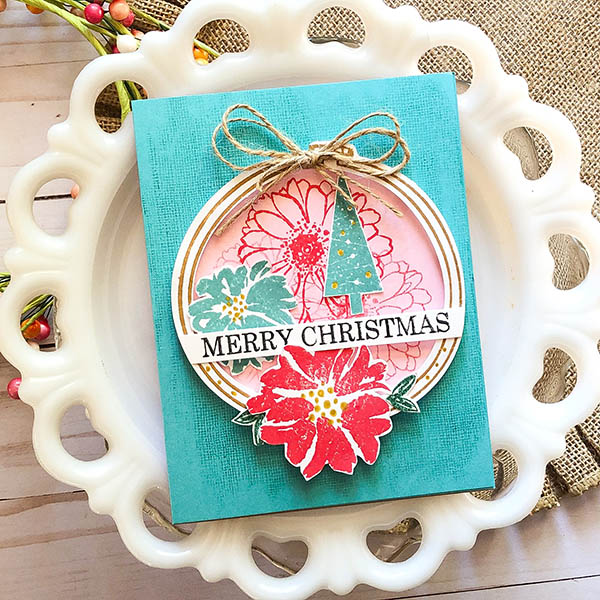 I couldn't resist creating a Christmas inspired card with a vintage color combo. The companion die set makes it super easy to pull this "ornament" like card together super quick. I added Beth's Holiday Trees in to pull it all together. The brushstroke floral makes for a fun poinsettia don't you think?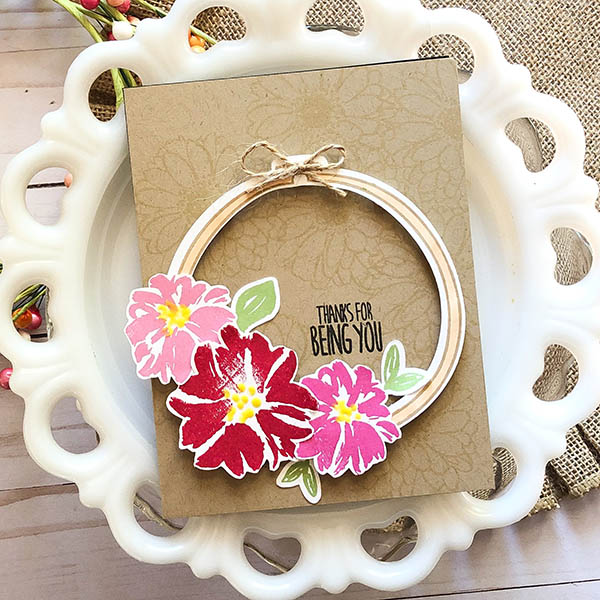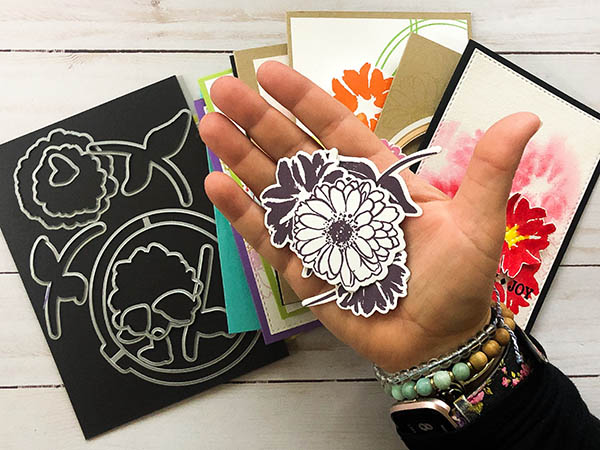 Here's a whimsical hoop style card using the dies and the big honkin' floral as a patterned background. This one came together so fast I just love the idea of creating hoopy art on a card.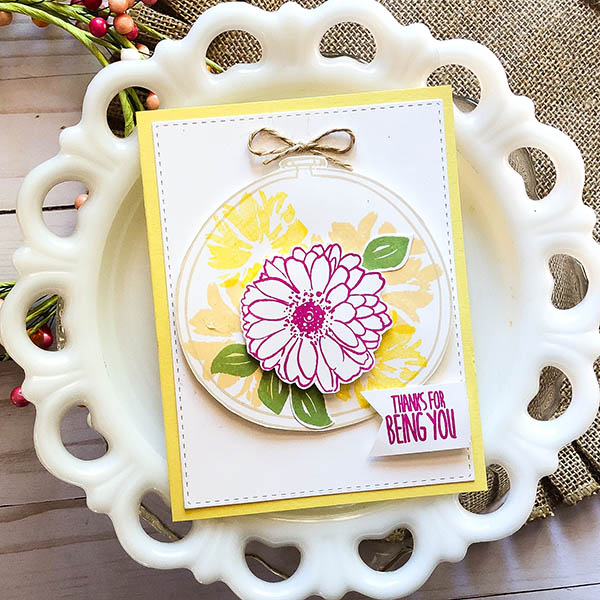 The hoop is such a simple shape, you can easily fussy cut it to create a whole layer to stamp inside and embellish with the larger floral.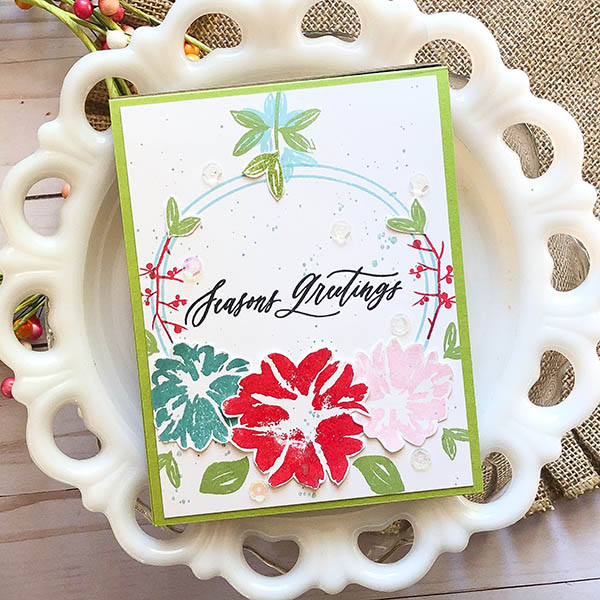 This holiday-inspired design pairs Emily's Christmas Script sentiment set with You Being You and some super fun elements from the Warm Winter Wishes Card Kit.
The Colors of FALL are Still Happening!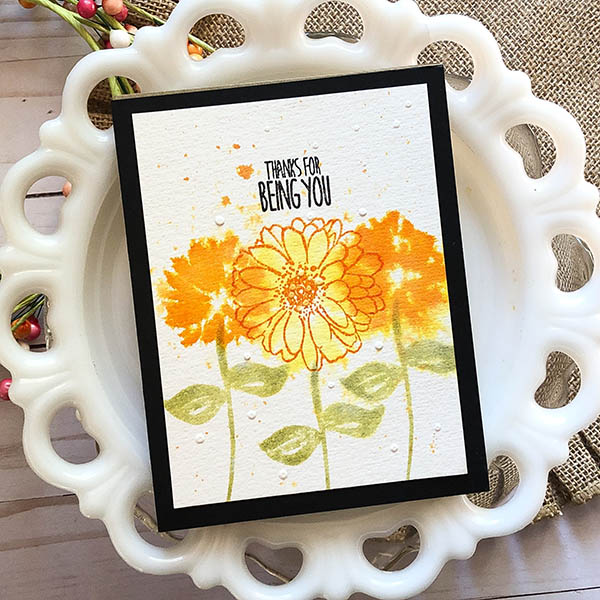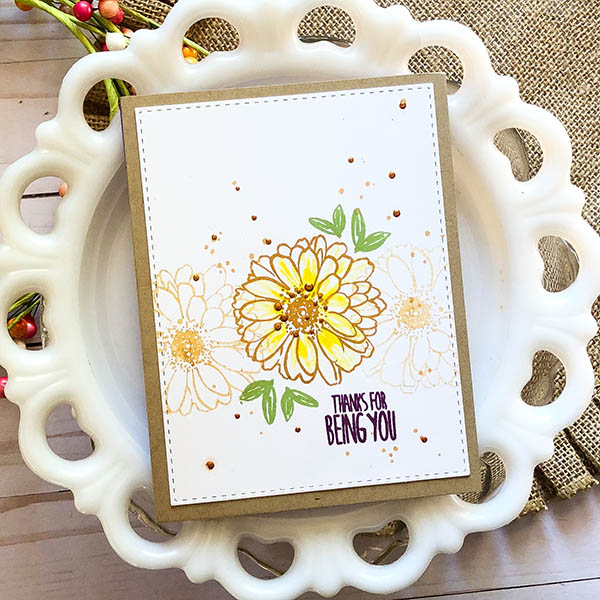 I just couldn't let the colors of FALL slip by without creating some sunflower inspired cards. The big honkin' floral in the set pairs nicely with the brushstroke florals to create a multi-layered effect. These yellows thought, RIGHT? Wild Dandelion and Prickly Pear for the fall color palette win!
Can I Share ONE MORE HOOPY Art Project? Yes? 
I'm a wee bit obsessed with creating embroidery hoop art lately. Maybe it's the holidays that are coming. Maybe it's because I'm channeling my past embroidery adventures. Either way, I whipped up this little 4 x 4 embroidery hoop ornament with my new set and I'm kinda giddy about it. I'll be sharing a VIDEO TUTORIAL on how to make this SOON!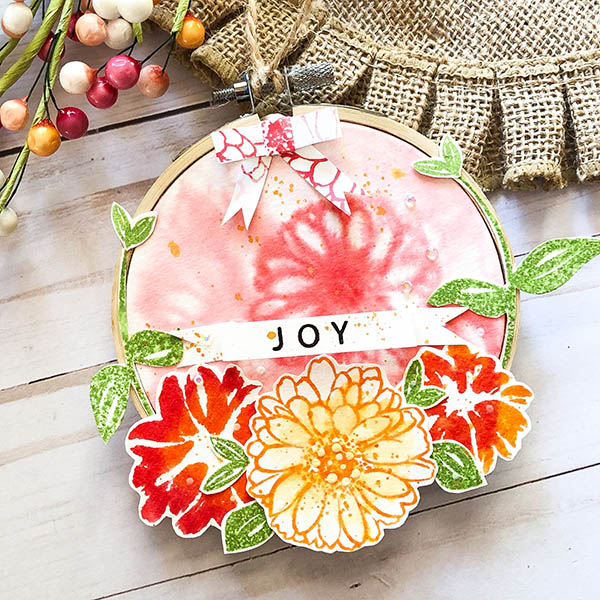 FREE Digital Die Cut Download 
I'm offering up the digital die cut files that coordinate with my new stamp set for FREE. Click the image to download the .zip file.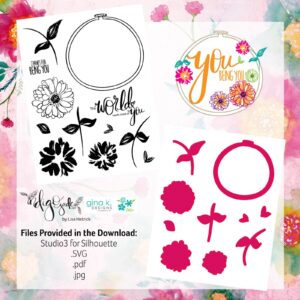 Introducing You Warm my Heart by Hannah Drapinksi
Hannah's new set makes me want to take a walk in the woods and breathe in the cool, crisp air of fall and winter. It's a delightful set and super easy to build outdoor scenes with. This set is perfect for creating watercolor looks and layering the tree elements. I paired it up with the Snowfall Stencil in the new Winter Wishes Card Kit to create a wintery scene.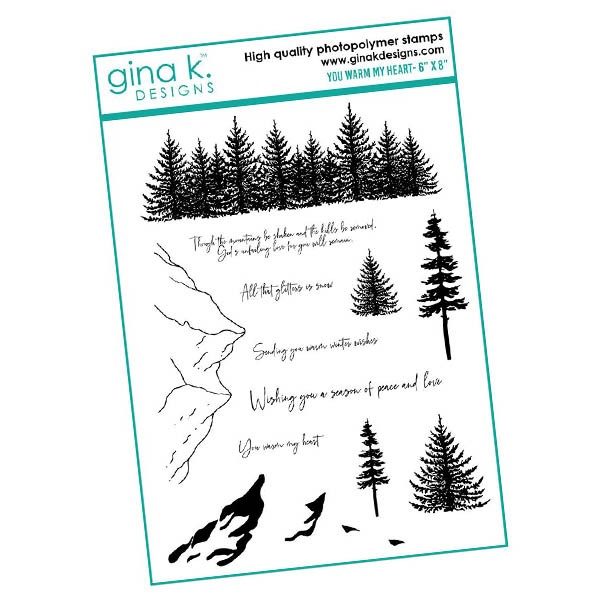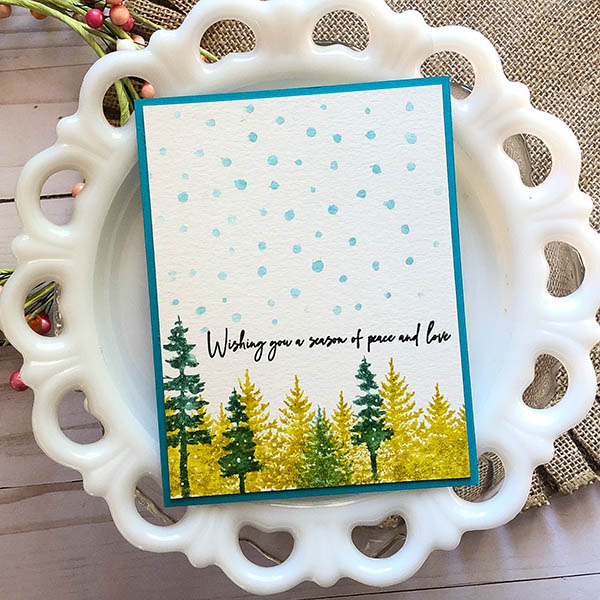 New Incentive Set Seasonal Greetings
I had a lot of fun combining this clean and simple sentiment set with my new stamp set You Being You to create this Poinsettia inspired card.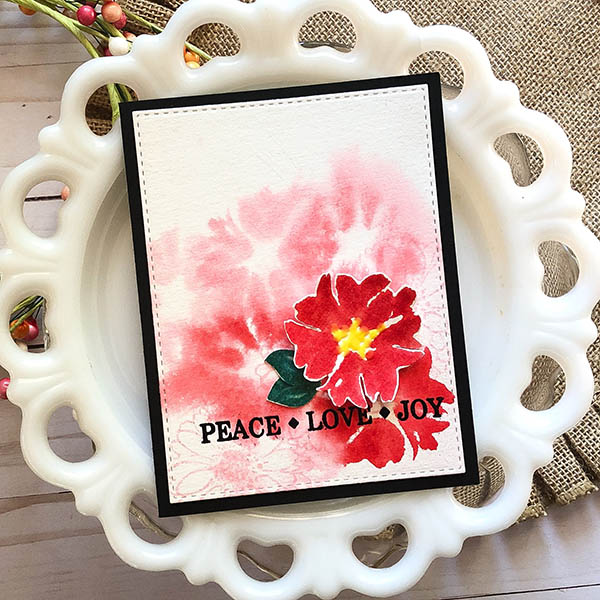 This set will be automatically added to your order of $75 or more. How cool is that!
What's Next?

Head on over to Hannah's Blog next for some more inspiration.
---
Don't forget to comment on each team member's blog for a chance to win a $50 gift certificate from Gina K Designs. Winner will be announced on MONDAY, October 28th on the Gina K Designs Blog.
There is one being given away each day of the hop. Woo to the Woot!
Names will be collected up across all of the blogs and the winners will be announced on Friday after the HOP.
May you find pause from the hustle, pure joy and inspiration here. Welcome!
Shop the Stamp Goodies

---
Did you Catch the Latest Video Card Tutorial on my YouTube Channel?
---
Thanks for stopping by! Looking for more inspiration. Check out my Craft Your Joy Papercrafting posts.
---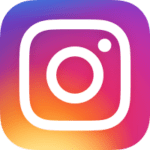 Follow me on Instagram and Facebook for daily artspiration!
If you are interested in more art from me. You can shop my art prints and gift products HERE
You can Subscribe to my email list and receive this FREE Art Print Download. Click the image to subscribe.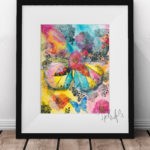 Affiliate links are used above for products I absolutely LOVE from the Gina K Designs line. Purchasing through the link means I will receive a small commission at NO additional cost to you. I never share products I have not personally tried, used and LOVE. I am an illustrator and part of the design team for Gina K Designs and will share Gina K products in my videos as well. 
Tags:
Gina K Designs
,
Maker Made
,
PaperCrafting
,
Stamp Art
,
Stamping
,
Watercolor Art