Gina K Designs: Stamp-n-Foil Blog Hop
Hi Friends! I'm so grateful you've stopped by today. Welcome to the Stamp-n-Foil Gina K Designs Blog hop. You might wanna grab your sunglasses, cuz it's about to get all SHINY up in here!  Super excited to share some inspiration with you today showcasing this new release designed by Gina. It's called Stamp n Foil and it's brilliant. The stamps, dies and coordinating foils are stunning. Gina debuted this new collection at Creativation in January and if you haven't seen it yet, you're in for a treat.
You have arrived here from Laurie's Blog and will be heading to Melanie's Blog next. The complete list of all the stops on the hop are below.
Here are the stamps and coordinating dies:
Not gonna lie, I'm puffy heart in love with the butterflies and flowers. Butterflies are kinda my thing and hold a special meaning for me. The fact that there are stamps, foil-mate sheets and dies that all coordinate is pure genius. A mash-up of foiling, stamping and layering all in one coordinated package…. yes please.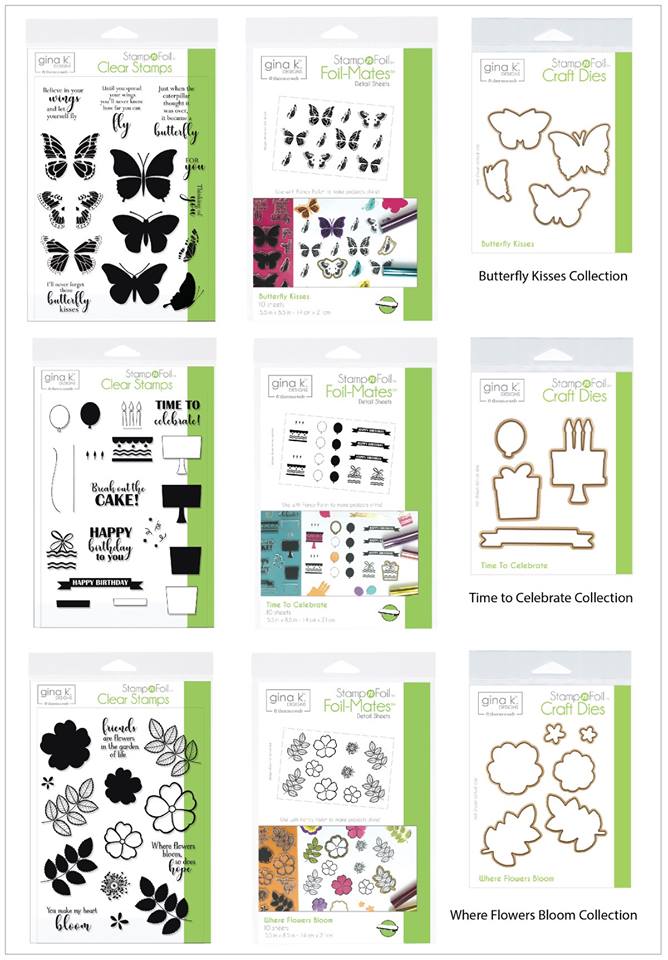 Here are the three new glitter foils and foil-mates backgrounds: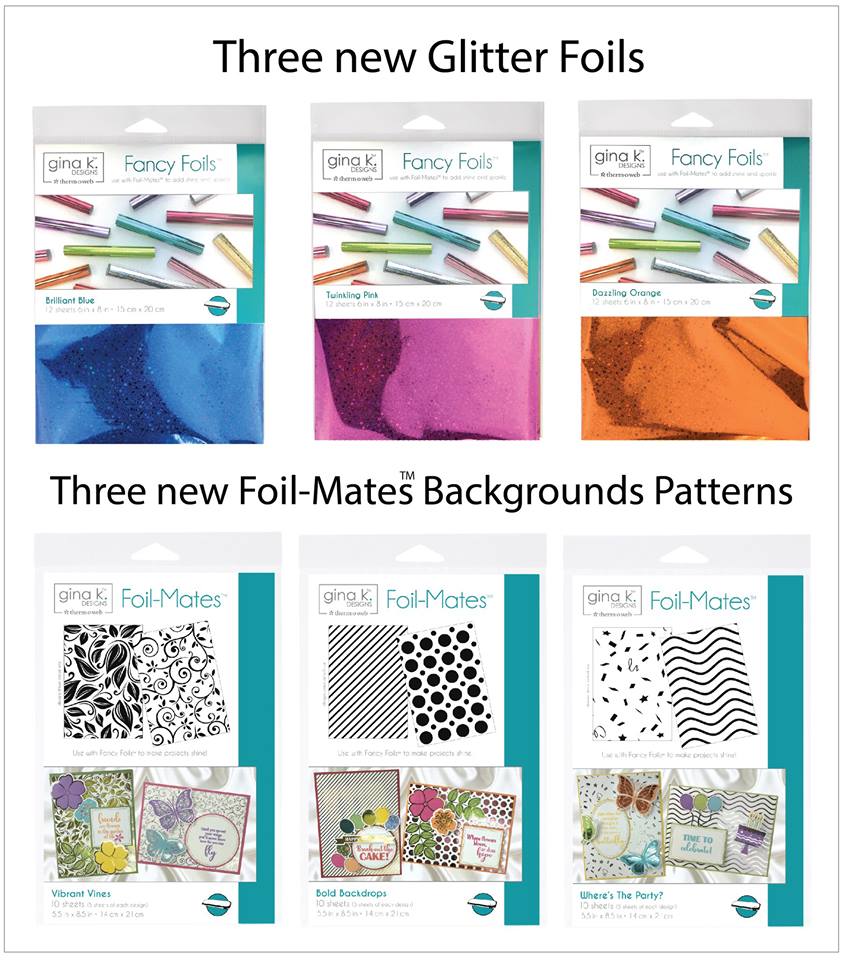 Here is a FANTASTIC Video From Gina that Shares How the Collection Works Together!
Thinking of You

Holy smokes, that shimmer and shine. Am I right? Using the coordinating stamps, dies and foil detail sheet from the Butterfly Kisses Collection with the new vibrant vines background, this card is big on shine with soft, buttery color touches. I stamped the butterflies on the Butterfly Kisses details sheets in pale colors so when they were foiled… SHAMPOW….the shine just pops!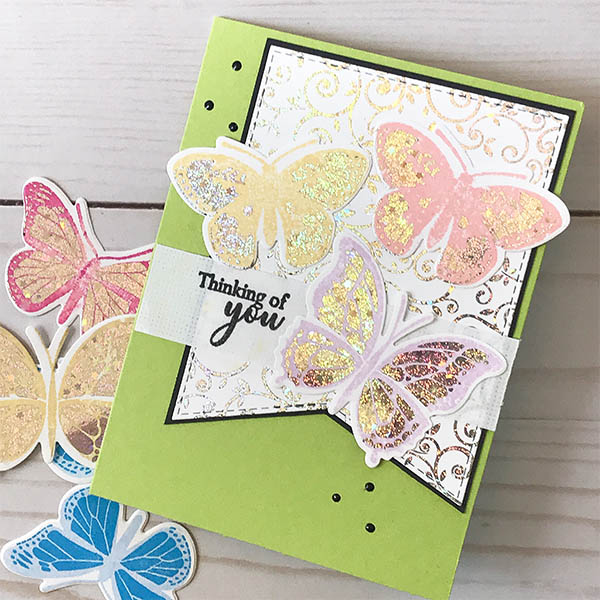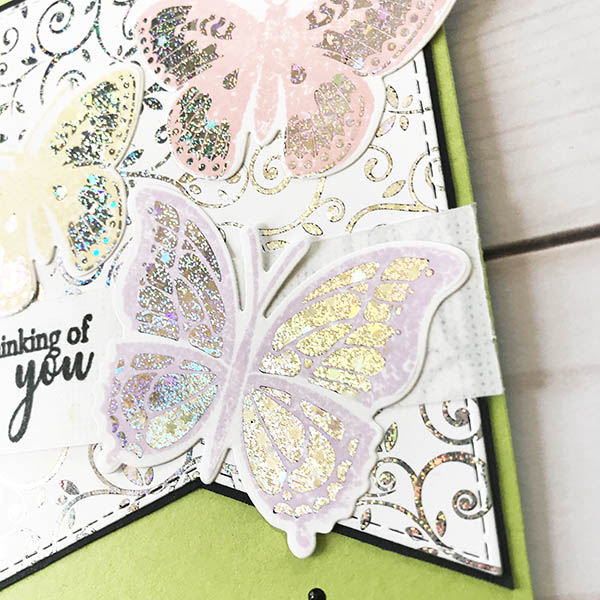 You Make My Heart Bloom

This card was super simple to make and is beaming with shine! Using the Where the Flowers Bloom Collection of stamps, detail sheets and dies, this design makes me so happy. Look at the center of the flower – that foil right smack dab in the middle of a stamped image. It's the perfect offset detail for this floral embellishment. The new Twinkling Pink foil is so shiny and PINK. Can't go wrong with pink… EVER!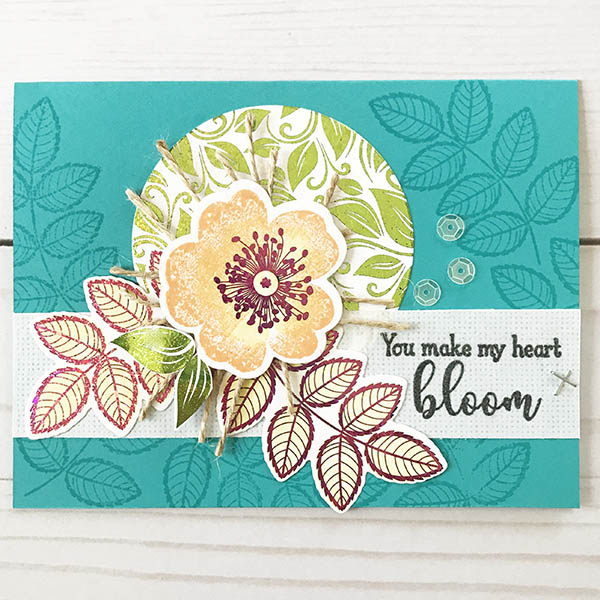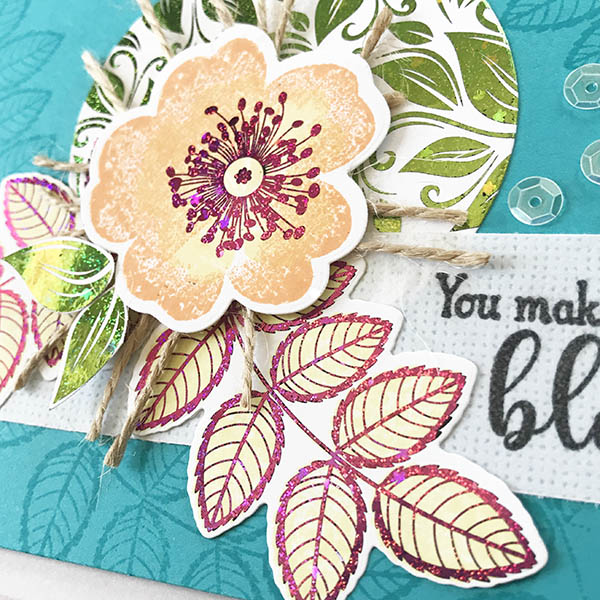 Happy Birthday!

Oh, I had some major fun creating this birthday card using the Time to Celebrate Collection of stamps, detail sheets and dies. Foiling and stamping up those balloons made for super shiny and fun embellishments. I created the background using the Gina K Tag dies and a Vibrant Vines detail sheet. The Happy Birthday banner is foiled up in the Twinkling Pink and wrapped around the two-step stamped prezzie. This card came together super quick and I kind of shocked myself when I created it. I also used some gold foiled Bold Backdrops to create the balloon strings. How fun is that? Go me. Tee hee.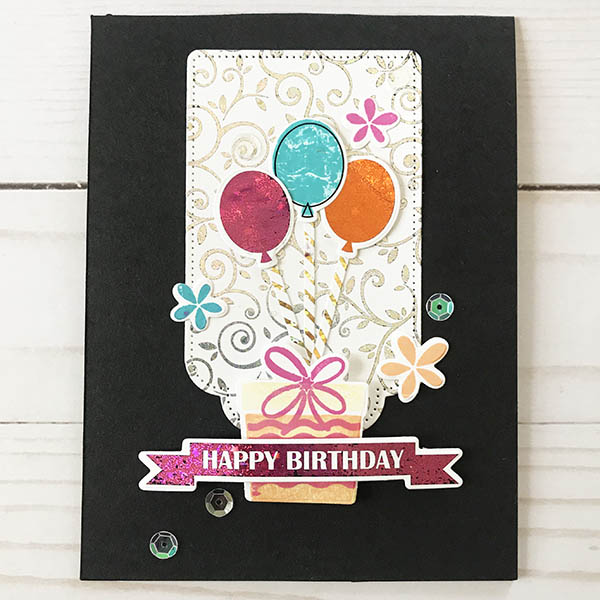 Did you Catch this Week's Video Tutorial?

This week, I shared a super fun one-layer card video tutorial using my You Are stamp set. Super fun card and you can make it in less than 10 minutes.
Here is the complete list for the hop today

.
Gina K.
Beth Silaika
Cathy Tidwell
Donna Idlet
Karen Hightower
Laurie Schmidlin
Lisa Hetrick – You are HERE
Melanie Muenchinger
Rema Deleeuw
Sheri Gilson
Susie Moore
Theresa Momber
Head on over to Melanie's Blog next for some shiny goodness.
If you want to start over from the beginning, you can start at Gina's Blog.
---
Don't forget to comment on each team member's blog for a chance to win a $50 gift certificate from Gina K Designs. Woo to the Woot!
Names will be collected up across all of the blogs and the winners will be announced in the Big News Forum at StampTV a few days after the hop. So be sure to check back at the end of the week.
May you find pause from the hustle, pure joy and inspiration here. Welcome!
---
Thanks for stopping by! Looking for more inspiration. Check out my Craft Your Joy posts and Free Downloads.
---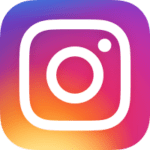 Follow me on Instagram and Facebook for daily artspiration!
If you are interested in more art from me. You can shop my art prints and gift products HERE
You can Subscribe to my email list and receive this FREE Art Print Download. Click the image to subscribe.
Tags:
Foil Mates
,
Gina K Designs
,
Maker Made
,
PaperCrafting
,
Product Design
,
Stamp Art
,
Stamp-n-foil
,
Stamping
,
Thermoweb
,
Watercolor Art