Craft Your Joy Card Tutorial: Whimsical Watercolor + Pattern Stamping
Today is DAY TWO or Rubeena's Crafting Anniversary! There are so many prizes and sponsors along the hop. AND, I have a super fun card tutorial to share with you! I promise, it's going to be FUN!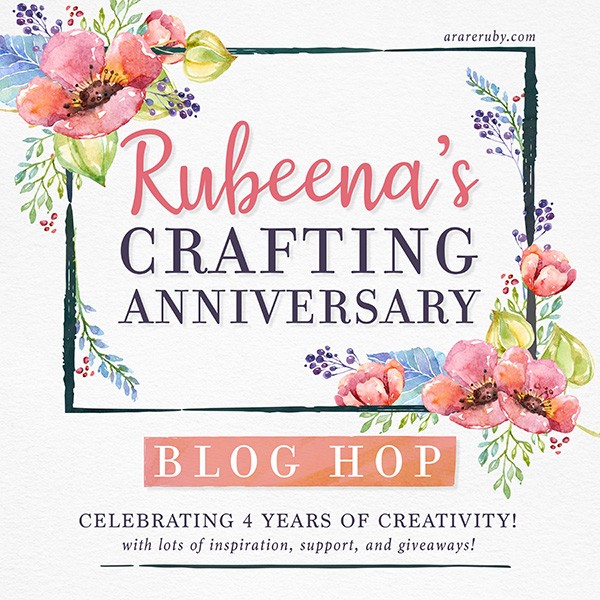 You arrived here from Kimberly Crawford's Blog and will be heading over to Laura Jane's Blog next.
Welcome to Rubeena's Crafting Anniversary 2-Day Blog Hop! This hop is epic with more than 70 guests and over $1,000 in sponsored prizes! Not only are we celebrating four years since Rubeena first discovered cardmaking but also crafting in general. I was thrilled when she asked me to participate. Anything that dials up the JOY in the making… I'm all in. Rubeena is a lovely soul and her papercrafting projects make me smile, EVERYTIME. So beautiful.
I adore the papercrafting industry and all the makers. Everyone is so creative, inspirational, kind, and incredibly supportive! This hop is infused with the spirit of inspiration, giving and kindness, I hope you find joy in the making today.
There is a HUGE list of sponsors and giveaways towards end of this post AND, I'm also giving away three of my stamp sets with Gina K Designs to a random person who comments on MY BLOG post here.
Let's Get Started with a Fun Project!
Hi Friends! Thanks so much for stopping by, I'm so grateful you're here. In this video, I'm sharing whimsical watercolor techniques along with pattern stamping to create this quick and easy card project. I'm also sharing tips for watercoloring with dye based and pigment based liquid watercolors. This projects is something you can whip up in ten minutes or less. Big on color, whimsy and fun.
I'm also using my stamp set Just a Little with Gina K Designs to create this fun card.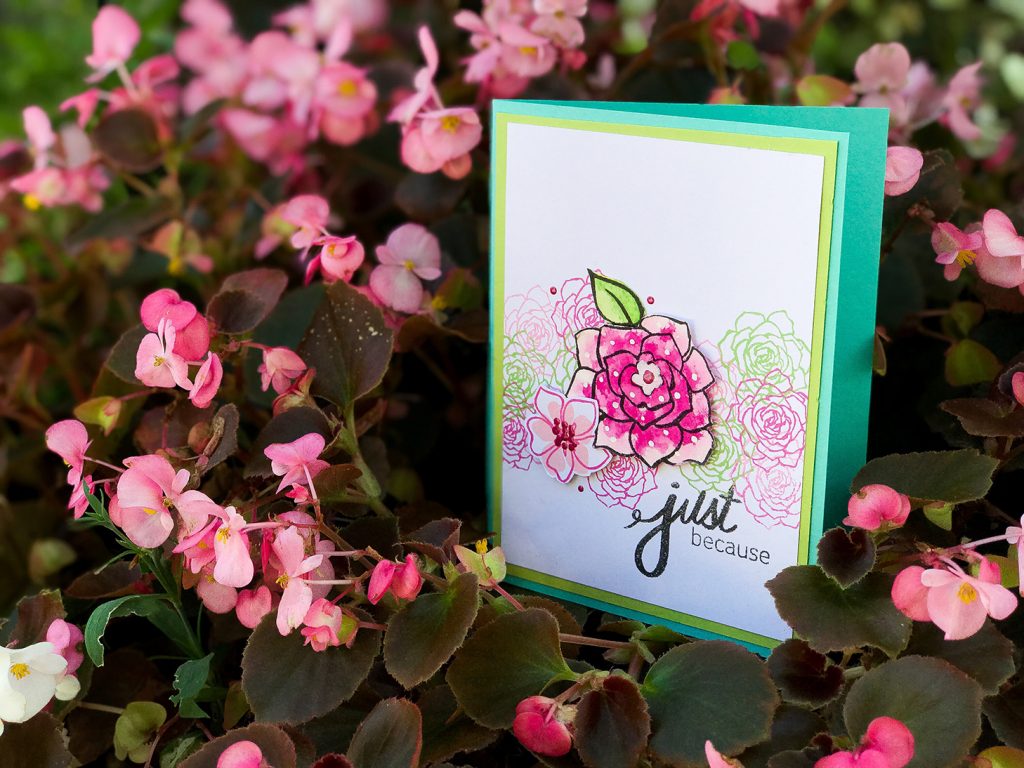 Watch the Video Tutorial
Here's a look at my stamp set Just a Little with Gina K Designs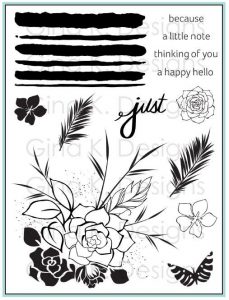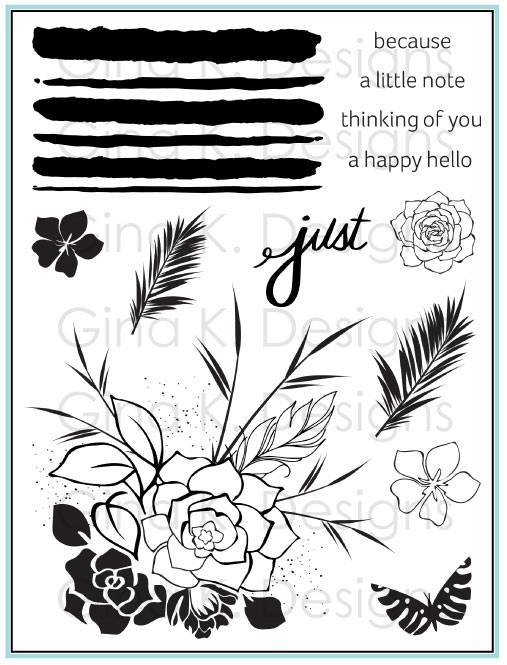 ---
GIVEAWAYS
In celebration of this anniversary, there are several amazing sponsors. Let's thank them for their generosity! Winners will be randomly selected from comments left on all the blogs and announced by Wednesday, September 5 on this page. Winners will have up to 2 weeks to contact Rubeena at ararerubycrafts@gmail.com to claim their prize before another winner is selected.
P.S. I'm also a sponsor and giving away a $50 gift certificate to my shop. WAHOO! See below.
Studio Katia – $50 gift card
Hello Bluebird – $50 gift card
Altenew – $50 Gift card
Pinkfresh Studio – $30 gift card
Gina K. Designs – $50 gift card
Clearly Besotted – £25 gift card
Simon Says Stamp – $25 gift card
Spellbinders Card Kit ($55 value).
Jennifer McGuire – $50 Simon Says Stamp gift card
Winnie & Walter, LLC – $40 gift card
Mama Elephant – $25 gift card
Hero Arts – $25 gift card
Nichol Spohr LLC – Custom-sewn rainbow pencil case filled with brand new Spellbinders dies
Danielle Flynn – $25 Simon Says Stamp gift card
Picket Fence Studios – four $25 gift cards
Ellen Hutson – two $25 gift cards
Pretty Pink Posh – two $30 gift cards
The Stamp Market – July 2018 Release (estimated $100 value)
Indigojade Art Shop – $50 gift card to Art Prints & Gifts Shop
Flora & Fauna – a 4×6 stamp set
Waffle Flower – $25 gift card
Power Poppy – $50 gift card
---
What's NEXT?

You arrived here from Kimberly Crawford's Blog and will be heading over to Laura Jane's Blog next.
---
ONE MORE THING. Do you like Stamps? Tee Hee!

(edited 9/4/2018, the winner is RoStamps4fun, Rose)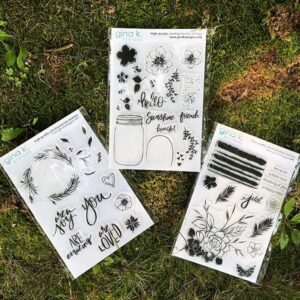 I'm giving away these three stamp sets designed by me with Gina K Designs to a random person who comments on THIS blog post. I'll also announce on September 5th and I'll contact the winner directly.
You Are, Hello Beautiful + Just a Little Stamp Sets with Gina K Designs
---
Some of the supplies I used in the video:
If you are interested, here are some of the products used in the video:
Paper Stock:
Gina K Designs Pure Luxury White Cardstock
Gina K Designs Turquoise Sea Cardstock
Gina K Designs Dye-Inks:
Amalgam Ink Large Pad
Amalgam Ink Cube
Watercolor:
Dr. Ph Martin's Hydrus Watercolor
My Favorite Watercolor Paper:
Bee Watercolor Paper
See my entire collection of stamps with Gina K Designs HERE
Gina K Designs Cardstock (LOVE)
Enjoy! Thanks for watching. Consider subscribing to my channel and following me in "all the places" for more inspiration to Craft Your Joy!
Thanks for stopping by! Looking for more inspiration. Check out my Craft Your Joy posts and Free Downloads.
---
My Craft Mat:
I get a lot of questions about the craft mat I use in my videos. It is a piece of poster board from WR Memory Keepers. They call is Designer Poster Board: Wood White. Manufactured by American Crafts. I had the poster board heavy duty laminated at my local Staples. GREAT for photos, video, craft mat usage. It wipes right off and is heat resistant.
You can find this poster board in many craft and hobby stores.
Affiliate links are used above for products I absolutely LOVE. Purchasing through the link means I will receive a small commission at NO additional cost to you. I never share products I have not personally tried, used and LOVE. I am an illustrator and part of the design team for Gina K Designs and will share Gina K products in my videos as well. 
---
May you find pause from the hustle, and pure joy in the making.
What do you get when you mash-up my weekly video tutorials with a deeper dive into watercolor and painting techniques? You create art that makes you feel good!
Interested in Taking a Class with Me? Join me in the Craft Your Joy Online Classroom.
Classes for Artists, Crafters, Enthusiasts, YOU!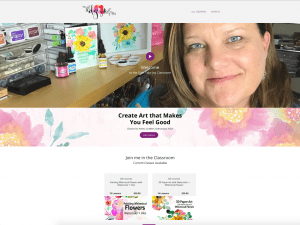 ---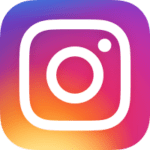 Follow me on Instagram and Facebook for daily artspiration! You can Subscribe to my email list and receive this FREE Art Print Download. Click the image to subscribe. Subscribers receive exclusive downloads, offers and updates about 3-4 times a month. Join me! Subscribers opt-in and may unsubscribe at any time.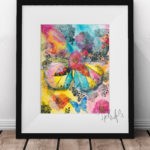 Save
Save
Save
Art in progress
,
Artspiration
,
Craft Your Joy
,
Paper Crafting
,
Stamp Art
,
Tutorials
,
Watercolor Art