Mid-Week Inspiration: Don't Just Fly SOAR
Today, I want to talk about what it feels like to FLY. Not the airplane kind of flying, but the kind where you are moving at light speed in so many directions you feel a bit out of control, and can't seem to get your feet on the ground. Know this feeling? Who's with me? I have felt like my feet weren't on the ground many, many times as a mama, wife, friend, business owner. In fact, this experience was in part the inspiration to shift my life and business from just flying to more SOARING.
Throughout the year, I've been thinking a lot about this kind of busyness, slowing things down, being more present… TAKING A BEAT. Reflecting and painting those feelings come up a lot in my sketchbooks and journals and is very much a part of who I am as an artist, painter, maker. I share these feelings and thoughts with you today. Freely.
I've been challenging myself to FLY a little less, get grounded, take a beat, and guess what? I am starting to SOAR.

Now, not everyone in my life can understand and/or appreciate this desire to be/feel less busy with things that don't really matter. Saying NO to say YES has been very much a part of my life this year, personally and professionally. Some in my circle understand. Some don't. Guess what.. I SOARING anyway.
I'm as equally busy as I have been in the past. I'm a mama, wife, business owner, friend to many. Like you, I've got stuff and a lot going on. Since I've started to pause, take a beat, think before I react and speak… AND…I've noticed a lightness, more focus on what matters, less on what doesn't. It's good.  SOARING feels light.
SOARING doesn't mean you're just saying NO to everything. That's not always practical. To me, it means I'm saying YES to the right things in my life and shifting accordingly. My "whys." My "values." My "homebase." My "people." ME. As a woman who wears many, many hats spreading myself too thin has been the norm since as long as I can remember. Can you relate? I'm sure you can. Most woman I know feel the same way.
Shifting these old habits takes time and I'm getting there. Much of this shift is a huge part of the positivity art and work I am called to create and share. Are you trying to implement a similar practice in your life? I'd love to know how it's working for you. Let's share and start a convo right here that might help each other. 

Mindful. Kind. Hopeful.

My intention, as always, is to send inspiration and positive vibes to anyone who may need to receive this message today. I believe we have all need to let a little more light in and SOAR. 
If you have been following me and my work, you know that light and positivity are at the center of all that I create. Don't just fly SOAR has been shared by me in so many ways through my art. I felt called to bring it to you today.
I am thinking of you, sending you light and  ❤️. If you feel someone in your life could benefit from this message today, please feel free to share.
---
Feeling inspired and want to SOAR? Adorn your space with a print as a daily reminder.

Visit the art prints shop and purchase this print.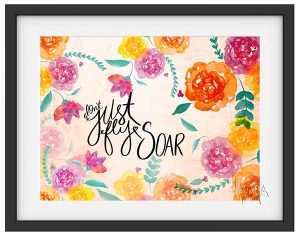 Available in 5×7 + 8×10 print only and/or matted, ready to frame.
These are a few of my favorite things: Give yourself or a friend a gift that SOARS.

Visit my gifts, stationery, notebooks, home decor and more shop


May you find pause from the hustle, pure joy and inspiration here. Welcome!
---
Thanks for stopping by! Looking for more inspiration. Check out my Craft Your Joy posts and Free Downloads.
---
Follow me on Instagram and Facebook for daily artspiration!
If you are interested in more art from me. You can shop my art prints and gift products HERE
You can Subscribe to my email list and receive this FREE Art Print Download. Click the image to subscribe.
Save
Save
Save
Artspiration
,
Color Mediums
,
Handlettering
,
Healing Art
,
Illustration
,
Painting
,
Sketchbook Art
,
Watercolor Art