Bloom and Flow: She is a Beautiful Mess
Last week, I did a massive overhaul of my studio office. It was much needed. I had products for my store everywhere, new paintings and projects in progress, studio lights, stuff… just stuff everywhere.
And then… I squirreled… you know what I mean. SQUIRRELED. Went down the rabbit hole. Got lost in some stuff. I came across my sketchbooks and I started flipping through them.
I found her.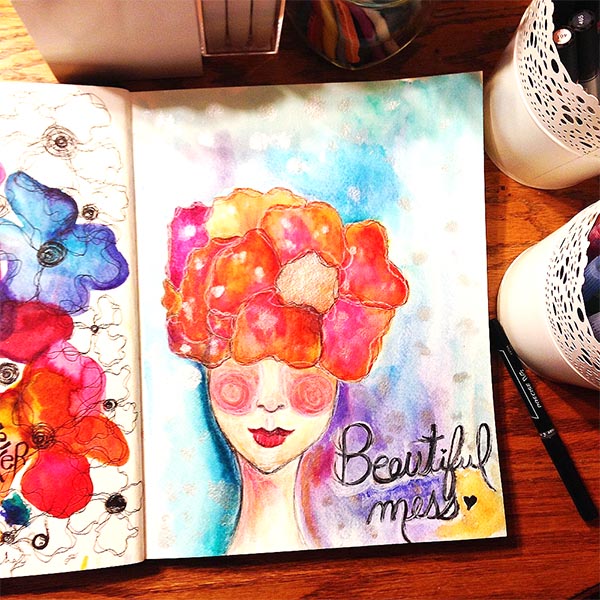 I must have created her about four years ago. There's watercolor, and pencils and every possible art supply all over this page. There was a time when I constantly drew faces in my sketchbooks. Faces with flowers on their heads, flowers everywhere. I've come to learn now, I was drawing me and working through some profound healing experiences. Art journaling and playing the sketchbooks is very therapeutic for me. It feels like home. It's a place I can explore, brain dump and work through my thoughts and make beautiful messes and craft my joy.
Do you sketchbook? Do you art journal? I'd love to know how you use this sacred time to craft your thoughts, your creativity, your joy. Let me know some of your favorite things to do in your journal in the comments. I'd love to hear from you.
(Supplies used: Peerless Watercolor, Liquitex Acrylic Ink, Copic Markers, Strathmore Watercolor Art Journal, Prismacolor Pencils, Mepxy Markers, Copic Multiliners, Uniball Signo White Gel Pen – the unicorn  of white pens)
May you find pause from the hustle, pure joy and inspiration here. Welcome!
---
Thanks for stopping by! Looking for more inspiration. Check out my Craft Your Joy posts and Free Downloads.
---
Follow me on Instagram and Facebook for daily artspiration!
If you are interested in more art from me. You can shop my art prints and gift products HERE
You can Subscribe to my email list and receive this FREE Art Print Download. Click the image to subscribe.
Copic Markers
,
Copic Multiliners
,
Liquitex Acrylic Ink
,
Mepxy Markers
,
Mixed Media Art
,
Peerless Watercolor
,
Prismacolor Pencils
,
She Art
,
Strathmore Watercolor Art Journal