Welcome to the Simon Says Stamp + Gina K Designs
Super STAMPtember 2018 Exclusive Set Release
Today, the design and illustrator teams are super excited to share some fun project inspiration for the STAMPtember exclusive Gina K Designs release.

During the month of September, Simon Says Stamp debuts a wide assortment of amazing and inspiring products in conjunction with a wide range of manufacturers. It's a huge stampy celebration. Today, Simon has released the new Gina K Designs STAMPtember exclusive, Joy of the Season.
You have arrived here from Karen's Blog and will be heading to Melanie's Blog next. Gina's giving away a $50 gift certificate to SIMON SAYS STAMP to one lucky commenter on the hop.
Big honkin' holiday set with companion dies. Woo to the WOOT!
How About a Little Project Inspiration?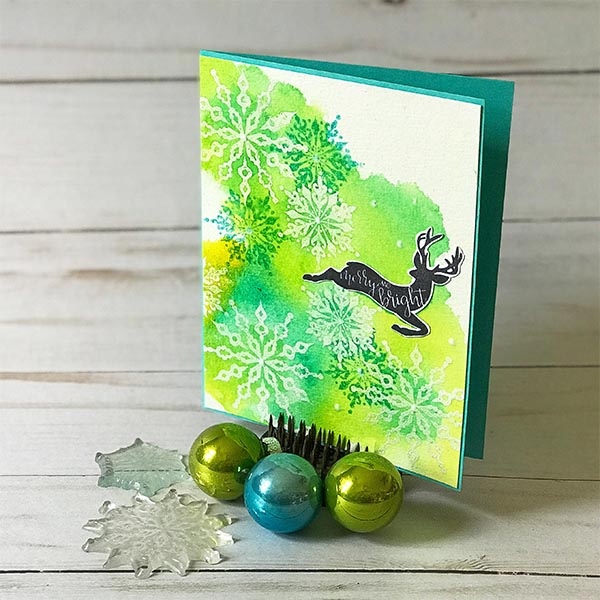 This new holiday set is whimsical and fun with so many options for holiday season stamping. Not gonna lie, I'm always a bit late with making my holiday projects, but this year… maybe not! Right? The graphic snowflakes and this cute, graphic deer caught my eye immediately and I knew they were begging for watercolor, washy washes.
I embossed the snowflakes with Gina K Designs White Detail Emboss Powder and BAM they made the perfect resist for Turquoise Sea and Key Lime Dye Inks.
How About a Little Detail?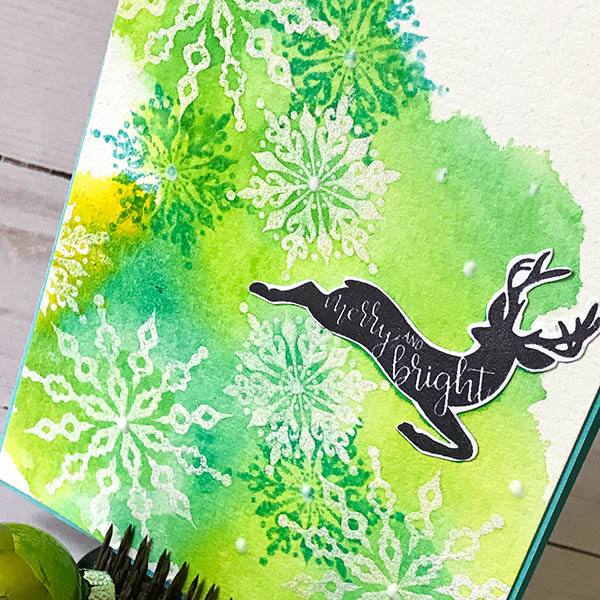 How about that Turquoise Sea? Holy smokes, I love that color and it's perfect for over stamping the snowflakes into the embossed ones. Love that effortless layered look. The whole card project took less than 10 minutes. My kind of watercolor project. Woot!
---
What's Next?

Head on over to Melanie's Blog next. If you get lost along the way, no worries. Here's the entire hop list:
Beth Silaika
Cathy Tidwell
Donna Idlet
Emily Loggans
Hannah Schroepfer
Karen Hightower
Lisa Hetrick
Melanie Muenchinger
Rema DeLeeuw
Sheri Gilson
Susie Moore
---
If you are interested, here are the Gina K Designs products used in the video:
Paper Stock:
Gina K Designs Turquoise Sea Cardstock
Gina K Designs Dye-Inks:
Amalgam Ink Large Pad
Amalgam Ink Cube
Wild Dandelion Ink Large Pad
Wild Dandelion Ink Cube
Turquoise Sea Large Pad
Turquoise Sea Ink Cube
Gina K Designs Cardstock (LOVE)
My Favorite Watercolor Paper:
Bee Watercolor Paper
---
May you find pause from the hustle, and pure joy in the making.
Thanks for stopping by! Looking for more inspiration. Check out my Craft Your Joy posts and Free Downloads.
Enjoy! Thanks for watching. Consider subscribing to my channel and following me in "all the places" for more inspiration to Craft Your Joy!
---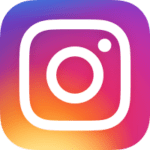 Follow me on Instagram and Facebook for daily artspiration! You can Subscribe to my email list and receive this FREE Art Print Download. Click the image to subscribe. Subscribers receive exclusive downloads, offers and updates about 4-6 times a month. Join me! Subscribers opt-in and may unsubscribe at any time.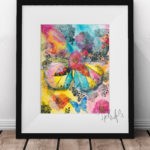 Save
Save
Save
CardMaking
,
Gina K Designs
,
Paper Crafting
,
Simon Says Stamp
,
Stamp Art
,
Stamping
,
StampTEMBER
,
Tutorials
,
Watercolor Art