Card Tutorial: Creating 3D Sentiments + Wet Washy Watercolor Florals
Hi Friends! Thanks so much for stopping by. I'm so grateful you're here. Today, I'm sharing a washy washy watercolor floral video AND, I'm sharing a fun technique for cutting and creating a 3D sentiment embellishment for your card.
I'm taking a deeper dive into how you can use liquid watercolors to create fun washy watercolor effects for your card and papercrafting projects.
 Take a peek at the tutorial and let me know what you think! 
LINKS to the Products I shared in this Video Tutorial:
You can Purchase "Hugs + Wildflowers" from Gina K Designs
See this stamp set and my entire collection of stamps with Gina K Designs here
**********
LIQUID WATERCOLORS Hero Arts:
Mulled Wine: https://amzn.to/2QopNld   Teal: https://amzn.to/2M7Z9ih
Prima Watercolor Taxi: https://amzn.to/2EwXkF4
Candy: https://amzn.to/2YOXIGR
**********
WATERCOLOR PAPER My Favorite Watercolor Paper for Swatching and Papercrafting:
Bee Watercolor Paper: Dick Blick: http://shrsl.com/v5mp   Amazon: https://amzn.to/2pVPmyg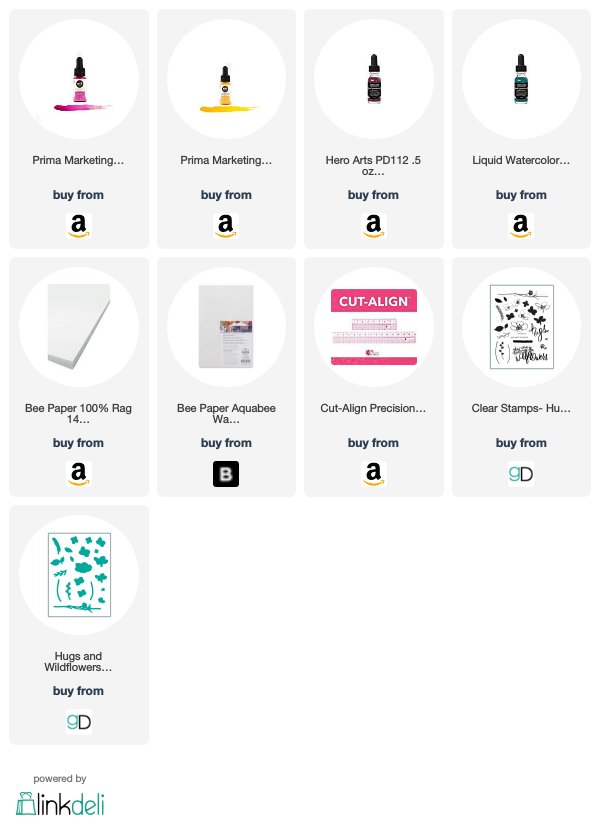 ---
Subscribe to my YouTube Channel  Tap the bell and never miss a new card, papercrafting and/or watercolor tutorial. 
---
Enjoy! Thanks for watching. Consider subscribing to my channel and following me in "all the places" for more inspiration to Craft Your Joy!
---
May you find pause from the hustle, pure joy and inspiration here. Welcome!
---
Thanks for stopping by! Looking for more inspiration. Check out my Craft Your Joy posts and Free Downloads.
---
Follow me on Instagram and Facebook for daily artspiration!
If you are interested in more art from me. You can shop my art prints and gift products HERE
You can Subscribe to my email list and receive this FREE Art Print Download. Click the image to subscribe.
Affiliate links are used above for products I absolutely LOVE from the Gina K Designs line. Purchasing through the link means I will receive a small commission at NO additional cost to you. I never share products I have not personally tried, used and LOVE. I am an illustrator and part of the design team for Gina K Designs and will share Gina K products in my videos as well.  The Cut Align tools were sent to me free of charge by My Sweet Petunia and I'm grateful. I do NOT use products I don't find useful or enjoy. I have used, tested and appreciate the cut align tool very much and it has helped me make better cuts of sentiments in my cards. enJOY!
Tags:
Digital Die Cuts
,
Freebies
,
Gina K Designs
,
Maker Made
,
PaperCrafting
,
Product Design
,
Stamp Art
,
Stamping
,
Watercolor Art